Mystic Axies are unique Axies that are only possessed by a very few number of Axie Infinity players.
But what makes Mystic Axies so special?
How can you obtain them? Is it possible to breed Axies with Mystic Parts?
And why are Mystic Axies so damn expensive?!
In this guide, we will teach you everything you need to know about Mystic Axies!
What are Origin Axies?
Origin Axies were the first batch of original Axies that were sold to the community by the Axie Infinity developer team.
Origin Axies were sold during a pre-sale in 2018 when the game was launched.
The number of Origin Axies is capped, so that there will never be more than 4088 Origin Axies in the entire game.
Origin Axies are the only Axies in the entire game that don't have parents.
This is in contrast to all other Axies that are born today which are offsprings from two parent Axies bred together.
(Related Guide: How to Breed Axies in Axie Infinity)
What are Mystic Axies in Axie Infinity?
Mystic Axies are rare Axies with special Mystic Parts that can only be possessed by Origin Axies.
When the Origin Axies were released during the pre-sale, they had 1/18 chance of spawning with a Mystic Part.
Mystic Axies look "cooler" than normal Axies because their Mystic Parts have a unique and more "dazzling" artwork compared to their common counterparts.
Aside from this, Mystic Axies also have a special purple tag on their names.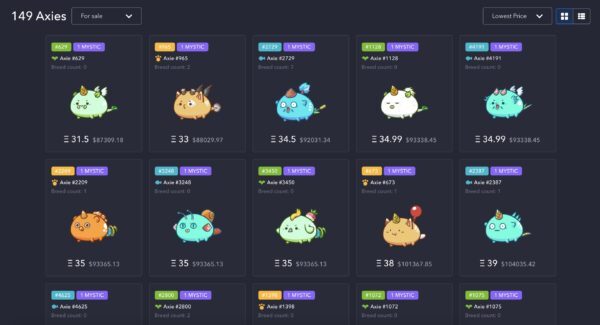 Out of all the Origin Axies in the game, only 30% of Origin Axies possess a Mystic part.
Remember, there are only 4088 Origin Axies in circulation, so imagine how rare Mystic Axies are! They are simply one of the rarest NFTs in the game making them more of a collector's item.
Aside from their rarity and uniqueness, the developers of the game also stated that these Mystic Axies will soon have "amazing powers" as new features and gameplay modes will be released.
It is possible that in future game modes, Mystic Axies will have certain advantages over normal ones.
What are the chances of spawning Mystic Axies?
When an Origin Axie was rolled, it has a 1/18 chance to be born with Mystic Parts.
These are the probabilities of spawning a Mystic Axie:
Single Mystic — 25%
Double Mystic — 3.68%
Triple Mystic — 0.28%
Quad Mystic — 0.0127%
Penta Mystic — 0.000299%
Hexa Mystic — 0.0000000294%
How can I breed Mystic Axies?
It is impossible to breed a new Axie with a Mystic Part. Mystic Parts can never be created again and they cannot be inherited by an offspring Axie.
The only Axies that have a chance of possessing Mystic Parts are the 4088 Origin Axie Eggs.
These Origin Axies were obtained by true Axie Infinity connoisseurs — those who started invested on the game way earlier than most people, even before the game got popular.
This is what makes Mystic Axies unique and very valuable.
How can I buy/obtain Mystic Axies?
Although you cannot breed new Mystic Axies, you can still buy them from the marketplace by spending some ETH.
Here's how to obtain Mystic Axies:
Go to the Axie Infinity marketplace
In the search sidebar, select the number of Mystic Parts you want
Choose an Axie and buy it with ETH
Another possible method to obtain Mystic Axies is through epic contests and tournaments.
The Axie Infinity devs have hinted that there are still a few Origin Axies that can be rolled in the future and that they are reserved for upcoming special events.
How much do Mystic Axies cost?
At the time of writing, the cheapest Mystic Axies with 1 Mystic part cost around 30-35 ETH, or about $84,000 (at $2700 ETH/USD).
The most expensive Mystic Axie has 4 Mystic Parts and is priced at a whopping 5000 ETH or $13,337,875.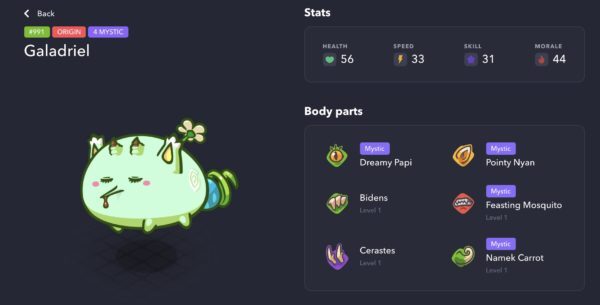 Note that the costs of Mystic Axies will definitely change a lot depending on when you are reading this article.
Remember that the number of Mystic Axies will never increase.
This means that over time, these rare Mystic Axies that came from Origin Axies will only become rarer and more valuable.
How many Mystic Axies are there in existence?
At the time of writing, these are the total number of Mystic Axies in the game:
1141 Single Mystics
213 Double Mystics
19 Triple Mystics
3 Quad Mystics
0 Penta Mystics
0 Hexa Mystics
More Axie Infinity Guides