It's the dream of every Mobile Legends player to have the coolest skins of their favorite heroes!
Good news is, there are several methods to get free skins in Mobile Legends.
In this guide, you will learn how to obtain those skins without spending a single cent!
Overview
The fastest way to obtain skins is by getting a job and earn money to buy Diamonds. But, not all of us have jobs or money to spend on skins!
Fortunately, the devs from Moonton are generous enough to give us a few ways to obtain skins for free.
Here are seven (7) ways on how to obtain free skins in Mobile Legends.
1. Lucky Spin (and Lucky Shop)
You can try your luck at the Lucky Spin and get a chance to win a free skin. If you don't, you'll still other rewards such as Battle Points, Emblem Fragments, or Hero Trial Packs.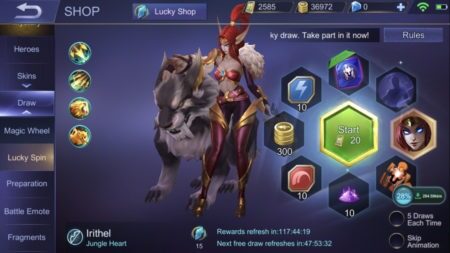 You can also get Lucky Gem Fragments from the Lucky Spin rewards. These Lucky Gems can be used to redeem a skin from the "Lucky Shop."
The Lucky Spin page is located at the Shop > Draw > Lucky Spin.
2. Skin Fragments
Aside from Battle Points and Tickets, another type of currency in Mobile Legends is the Skin Fragments which can be traded for a skin once you've collected lots of them.
You'll need around 75–250 fragments depending on the skin. Just go to Shop > Fragments tab to check the available skins you can buy with fragments.
There are two types of Skin Fragments: Premium Skin Fragment and Rare Skin Fragment.
Skin Fragments can be obtained from several methods such as Daily Login, Magic Wheel, Lucky Treasure Recharge and Skin Gift. I recommend checking out this page for more details.
3. Rank Up Reward at the end of Season
Another way to earn free skins is by simply playing Ranked games and increasing your rank.
If you end the season with at least the Master rank, you will get the Season Exclusive Skin once the season ends, in addition to Tickets and Battle Points rewards. A season usually lasts for 3 months.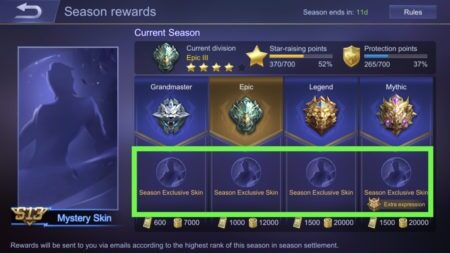 This is another reason why you should keep on leveling up your rank. Check out our guide on how to rank up fast in Mobile Legends.
If you're really dedicated to getting those skins, you should always login once a day to claim your Daily Login rewards.
While you don't really get an actual skin, you can gain Skin Fragments and Tickets, which as you now know can be traded for skins in the Shop.
In addition, you'll get a Deluxe Skin Trial Card (1-day) on the 7th day.
5. Events
Always keep an eye out for events in the game! A lot of times, there are certain events where the game just simply gives you free skins.
This is another reason why you should try to login daily and clear all the tasks in the game.
6. Live Streaming
Did you know that you can obtain free Diamonds if you live stream?
Through the Live Streaming feature in Mobile Legends, if a lot of people watch you and enjoy your stream, they can gift you with Diamonds.
You can then use these Diamonds to buy those skins.
7. Join Free Giveaways by the Community
If you watch a lot of Mobile Legends videos on YouTube, this is also another way of obtaining free skins.
Watch out for YouTubers who host skin giveaways. Usually you just have to like their videos and subscribe to their channel in order to participate.
Besides, if you enjoyed their content, think of it as a way of giving back and helping them grow their community following!
8. (Bonus) Ask for gifts from friends!
Finally, the last method but probably the most difficult one, is to ask your friends to gift you a skin or two!
Conclusion
As you learned, there are several ways on how to obtain skins for your heroes in Mobile Legends and you don't even have to open your wallet!
Which methods have you been diligently doing in order to get free skins?
How many skins have you already collected just by doing these tips? Drop a comment down below!