MIR4 is a new multiplayer RPG game that has just released last August 2021.
However, this game is not your typical MMORPG. MIR4 is a play-to-earn blockchain-based game where players can mine cryptocurrency and sell them on the market for real-world money.
Here's a complete guide on how to earn money just by playing MIR4.
How to Earn by Playing MIR4
Just like other NFT games such as Axie Infinity or Plant vs. Undead, MIR4 players can mint cryptocurrency tokens by playing the game.
In MIR4, players mine an in-game currency called Darksteel by literally "mining" it in the game.
Darksteel can be exchanged for utility tokens called DRACO by "smelting" them.
The current exchange rate is 100,000 Darksteel = 1 DRACO. However, as more Darksteel is mined in the game, the required amount of Darksteel needed to smelt DRACO increases.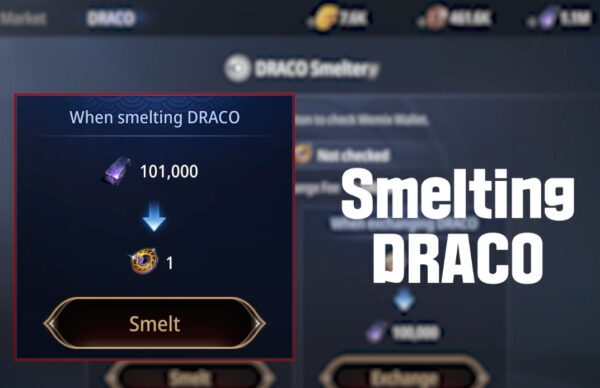 Instead of cryptocurrency wallets like MetaMask, the game has their own wallet called the WEMIX wallet which is where you can store and trade your tokens.
DRACO can then be exchanged into WEMIX Tokens via the Bithumb exchange. (More on this below.)
If you want to start investing and earning with cryptocurrencies right now, we highly recommend you to use the Binance exchange. You can easily create an account in a few steps by using this link.
What is DRACO in MIR4?
DRACO is a utility cryptocurrency tokens of the MIR4 world. It allows you to move, store, trade and purchase in-game assets outside of the game.
According to WeMade Co, the creators of MIR4, DRACO is "a coin with a new concept to allow in-game assets to be freely exchanged, stored, sold, and purchased outside of the game. The intrinsic value of the coin is guaranteed through the value of resources derived from the game."
Players can "smelt" Darksteel into DRACO at a ratio of 100,000 DS to 1 DRACO, plus a small fee paid in Darksteel.
The required amount of Darksteel needed to smelt DRACO will increase daily based on the total number of Darksteel mined in the game.
The total number of DRACO coins that can be smelted is also limited based on the total issuance capacity.
This will allow DRACO to retain its real value and provide economic use in other future games beyond MIR4.
How to Mine Darksteel in MIR4
Darksteel is an in-game resource that can be obtained by mining or clearing quests.
Players will have to literally mine this resource on dungeons and caves with a pickaxe.
The best part is that the mining aspect can be automated just by clicking on the "Auto" mode.
This way, you don't actually have to play the game or do anything — the AI will just automatically do all the Darksteel farming for you.
(Related Guide: Best Class in MIR4 for PVE and PVP)
How to Obtain DRACO in MIR4 by Mining and Smelting Darksteel
Here are the steps on how to obtain DRACO — the main source of income for the play-to-earn game MIR4.
1. Install MIR4 on your device and play
Click here to download the game on your device. (Opens in a new tab). It is available for Steam/PC, Android and iOS.
2. Reach character Level 40
You will first need to level up to Level 40 before you can start mining Darksteel and enjoy the play-to-earn benefits of the game.
3. Acquire 100,000+ Darksteel by doing quests and mining
You can mine Darksteel by entering dungeons in the game and looking for Darksteel minerals.
This can be done automatically by clicking the "Auto" button in the lower left.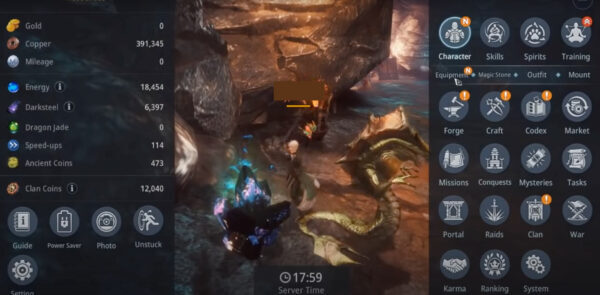 Note that the amount of Darksteel needed to smelt may increase. See next section below.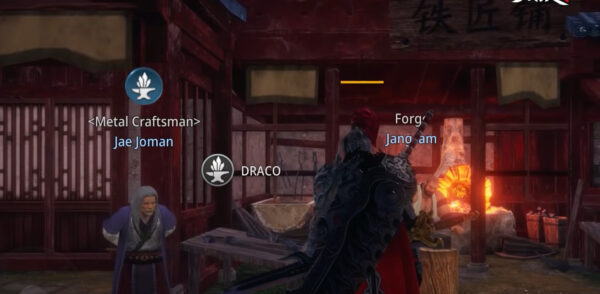 6. Smelt Darksteel into DRACO (requires a 1,000 Darksteel fee)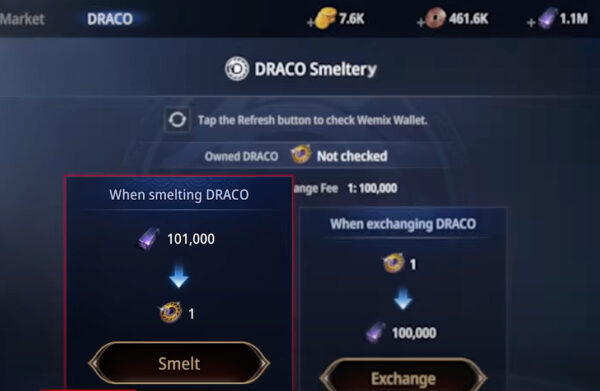 7. Receive a notification of the successful transaction via in-game mail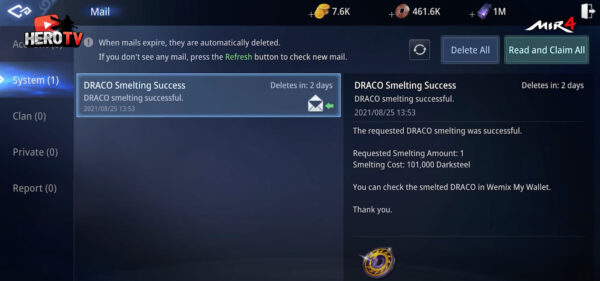 Once you've finished smelting, you will receive an in-game email to notify of the successful transaction.
You can also convert DRACO into Darksteel via the Smelting menu. The exchange rate is also 1 DRACO = 100,000 Darksteel.
How Much Darksteel is Required to Smelt DRACO?
The game has an algorithm called the DERBY or Daily Exchange Rate By Yeild.
This is the exchange rate of Darksteel per DRACO, and it is calculated based on the Fixed (100,000 Darksteel) + the Yield (total cumulative Darksteel mined upto the day before the exchange).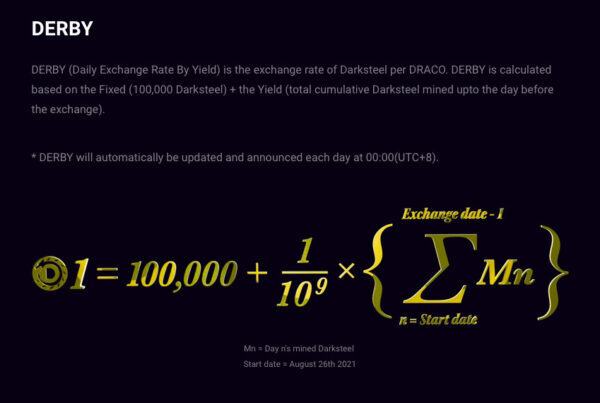 The DERBY is automatically updated and announced each day at 00:00 UTC+8.
There is also a daily smelting limit of 1,000,000 DRACO coins, and a total supply limit of 1,000,000,000 DRACO coins.
How to Sell DRACO via WEMIX Wallet
Once you've successfully converted your Darksteel into DRACO, here's how to trade it on the market:
Go to WEMIX wallet
Go to the WEMIX DEX (Decentralized Exchange)
Put a sell order for DRACO to get WEMIX CREDIT
Exchange WEMIX CREDIT with WEMIX Token (1:1 swap ratio plus a small exchange fee)
Transfer WEMIX to listed exchanges (Bithumb or BiKi)
Trade WEMIX to other cryptocurrency
Currently, the WEMIX token is listed on Bithumb exchange and BiKi exchange.
DRACO is not listed on any exchange at the moment.
How Much Can you Earn in MIR4?
Now that you understand how to mine Darksteel, convert it to DRACO and trade it with WEMIX on the market, how much can you actually earn by playing MIR4?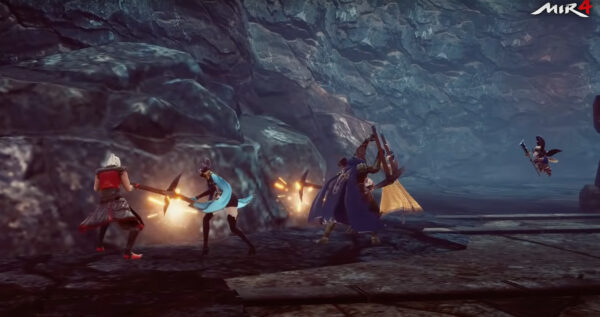 Well, it's difficult to estimate for now since the game is still very new.
However, you can check the current prices of the DRACO token and the DERBY value to get an idea of how much you can sell these tokens for.
Just visit the DRACO price page at https://mir4draco.com/price.
At the time of writing, a DRACO coin is trading at around $2.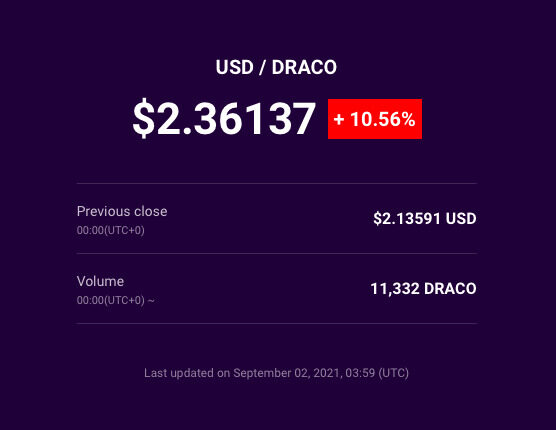 There are lots of ways to increase your earnings and your Darksteel mining rate.
We will be discussing tips and tricks on how to improve your play-to-earn capabilities on MIR4 in future guides, so stay tuned!