Axie Releasing is a new feature in Axie Infinity that allows players to send their Axies on a journey and gain items as rewards.
Here's everything you need to know about releasing your Axies in this play-to-earn NFT game.
What is "Axie Releasing" in Axie Infinity?
In Axie Infinity, players can now "release" their Axies forever into the land of Lunacia. In return, released Axies will send you back some rare items as gifts.
Releasing an Axie means the Axie will be gone forever and there is no way of retrieving them.
Axie Releasing is the first "sinking" feature in the game, designed to help balance the economy and prevent inflation.

At the moment, the rewards you can get for releasing your Axies are cosmetic items that you can display on your Land.
The current event will run on January 20, 2022 until February 20, 2022.
The cosmetic rewards for this event include Lunar New Year themed items.
What are the benefits to releasing your Axies?
"Hold on a minute, why would I ever want to release my Axie and make it disappear forever?!" You may ask.
The first and most obvious reason as stated above would be the rare cosmetic items for your Land.
The current Axie Releasing event (at the time of writing) will only run until February 2022.
This means that these cosmetic rewards will become rare as time goes on, and you will have bragging rights that you've taken part in the very first launch of Axie releasing—or Axie Infinity, the game, in general!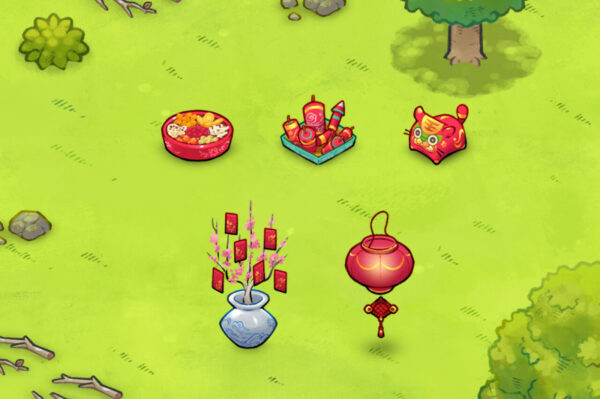 On their blog announcement, the Sky Mavis team even hinted at this: "Some day these may be relics of an early era in our history."
Who knows what value these items will hold a few years from now?
The second reason why players should consider releasing Axies is to help balance the economy.
As the law of supply and demand dictates, too much supply of something will make it less valuable. Everyone in the play-to-earn or crypto space knows this.
The Axie Releasing feature is a "burning" mechanism that will reduce the total supply of Axies circulating in the game's economy.
Releasing or burning Axies will tend to increase the overall value of Axies.
In the words of the Axie Infinity devs themselves, Axie Releasing is an important component to our quest for economic balance.
What are the rewards for releasing Axies?
Here is the list of rewards for releasing your Axies into Lunacia.
Take note that in future releasing events, the rewards will be varied and unique, especially once new game modes such as Land gameplay are fully released.
1. Lunar New Year Cosmetic Items
When you release your Axies to Lunacia, you can get the following rewards:
Assorted Firecrackers (35%)
Traditional Snack Box (35%)
Blossom Tree (20%)
Lucky Lantern (9%)
Crimson Tiger (1%)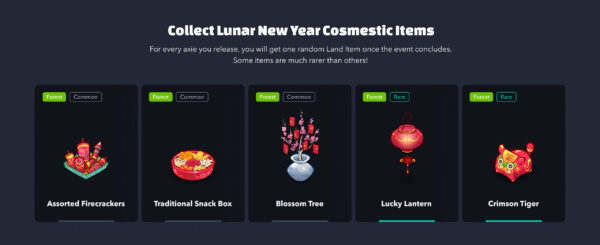 When you release an Axie, you will be guaranteed at least one of the five items above.
2. Legendary Raffle Rewards
In addition to the cosmetic items, you'll also get a guaranteed raffle entry for rare rewards: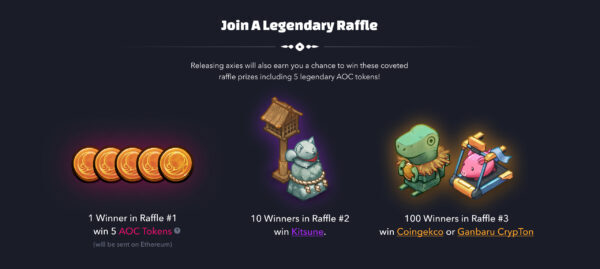 Axie Origin Coin (AOC) tokens are rare tokens that allow you to unlock or mint new Origin Axies.
When rolling an Origin Axie, each of the 6 body parts has a 1/18 chance of having a mystic part. Which means each Origin Axie has a ~33% chance of becoming a Mystic Axie.
(Related Guide: What are Mystic Axies?)
Winners of the raffle will be announced once the event ends on February 20, 2022.
How to Release an Axie
Are you now convinced to release your Axies and let them live independently in the land of Lunacia? Great!
There are two ways on how to release your Axies.
1. Release Axies in the Marketplace
In the marketplace, there is now a new "Release" button beside the Sell, Breed and Gift buttons.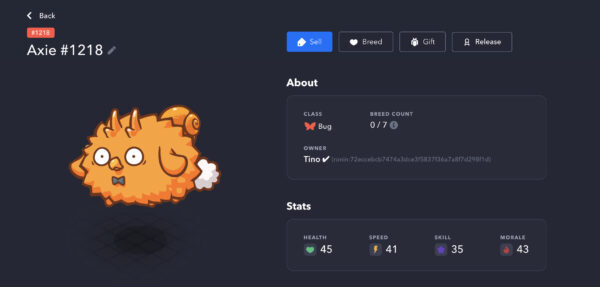 Just click this button on the Axie that you want to release.
2. Release Axies in the Event Page
The second method to release an Axie is via the Event Page.
Click this link to go to the current Lunar New Year event page and click on the "Release an Axie" button.
This will prompt you to login and select an Axie that you want to release.
Good luck!