UPDATE: Complete List of Season 20 Nerfs and Buffs (Jan 2022)
The off-season is over, and Axie Infinity Season 19 is finally here!
In this article, we'll discuss everything you need to know about the latest update of the biggest NFT blockchain-based game.
Axie Infinity PVP Season 19 Start Date
Axie Infinity Season 19 officially starts on November 10, 2021. It will end on December 21, 2021 at 4:00 PM (GMT +7).
Season 19 is live with 3,000 AXS in leaderboard rewards, currently valued at $400,000+

We've made some card balancing adjustments and changes to the critical strike and skill stat formulas.

Balance changes in the article 👇🏻https://t.co/1NQBtUfHAb

— Axie Infinity🦇🔊 (@AxieInfinity) November 10, 2021
Traditionally, PVP seasons in Axie Infinity run for around four to five weeks, and Season 19 is no different.
This will be followed by another off-season where the devs take time to balance the game and develop more features.
Season 19 AXS Rewards (Leaderboards)
As a reward for players who climb their way up the leaderboards, a total of 3,000 AXS in rewards will be given to the top 1,000 players by the end of the season.
At the current $AXS market price of ~$150, this prize pool is equivalent to a total of at least $400,000!
Here is the complete list of how much AXS rewards you can get for each ranking: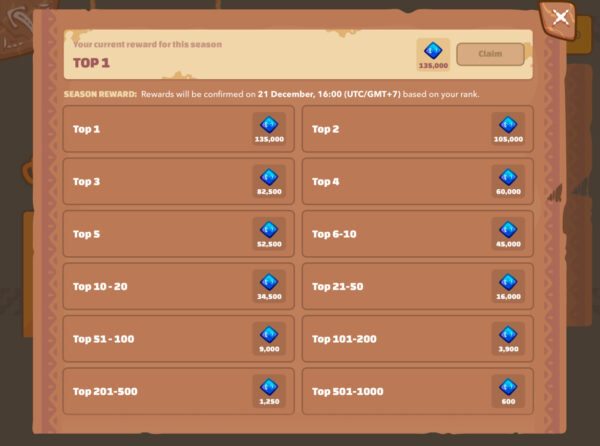 Season 19 MMR Reset
At the start of each PVP season, the MMR of all players will be reset to 1,200.
(Related Guide: Axie Infinity PVP Guide: How to Win More in Arena)
This is to give everyone a fair chance to compete for the top 1,000 ranking and receive a huge amount of AXS rewards.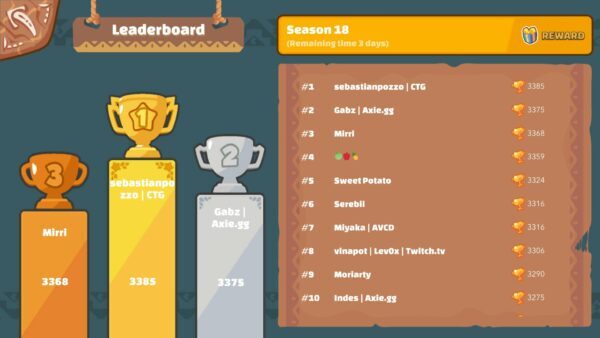 Your previous off-season MMR—or the latest MMR you had right before Season 19 went live—will remain intact and will be your MMR again once Season 19 ends and the next off-season begins.
For a more in-depth explanation on how off-season and seasonal MMR work in the game, check out our guide here: Axie Infinity Seasonal MMR Reset Explained (Season 19)
Balance Updates on Cards/Abilities
One of the biggest changes that will surely affect the Season 19 meta are the balance updates on Axie cards.
(Related Guide: List of Best Axie Cards for Each Class)
Some of the powerful and overused cards have been slightly nerfed, while weaker cards are buffed.
The devs used data from the previous PVP season and off-season meta, and especially from leaderboards and tournaments.
The complete list of the card balances can be seen in this Google Sheet document.
Some notable nerfs are Terminator parts (Lagging, Tiny Turtle and Thorny Caterpillar), as well as Doubletalk and some Poison cards.
Season 19 is live and we have balance changes!!!

Highlights:– Terminators nerfed 🔻– Doubletalk nerfed 🔻– Poison cards nerfed 🔻– Scarab blocks heals for two turns ✅

– Strawberry gets more shield! (Keeping my eye on @vesakaxie) ✅